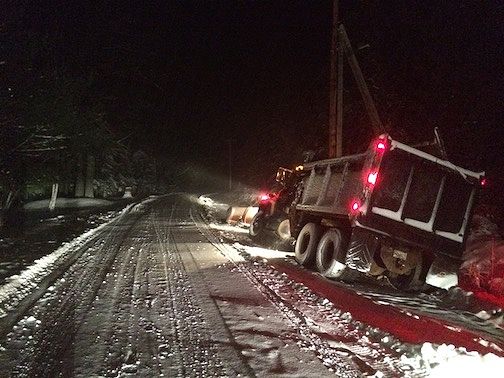 Our thanksgiving road trip coincided with a big nor'easter. Rather than take my new car which is only front wheel drive, we took my wife's suby. Shod with studded Hakkapeliitta 7 SUVs, it performed like a tank.

The 200 mile trip started out in dry but halfway through we hit the snow. We arrived at our destination without drama except for the occasional passing of vehicles that were going 20 miles per hour because they had bad tires. After an hour and a half of getting settled at my Aunt's house in Weld, we left during the peak of the storm to meet more family at a restaurant 30 minutes away.

The road took us over the "height of land" and then down to the town of Wilton. The highlight of the trip was rounding a corner to find that the town plow had oversteered and gone off the road. The AWD and tires got us to our destination safely. My parents arrived (of course they too had AWD and studded Hakkapeiittas).

After a nice meal, we headed back to the town of Weld and didn't encounter another car on the road. The plow was still stuck though. We met the driver at a local store and he was waiting for a big tow truck to arrive to pull him out.

Thanksgiving morning arrived and I left early to go skiing with my father at Sugarloaf, about an hour away. Where the roads were unsalted, driving was easy and predictable. But in sections where it had been salted, a soupy mess created the second most dangerous winter driving condition: slush planning. A firm grip on the steering wheel was required as the car was pulled back and forth in the slush. Both the tires and all wheel drive system on the Subaru Outback got a workout but I arrived without incident.
In 500 miles of the worst driving conditions that north western Maine can offer, the Nokian Hakkapeliitta 7 SUVs performed like champions. It is not surprising as the tires were developed in a virtually identical environment. Sections of my drive this weekend could have just as easily been in Lapland, Finland.