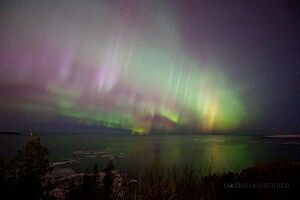 Even though we are at over 160" this season its been below average especially since February.
Marquette was recently awarded the 2nd top snowiest city next to Sault ste Marie,Mi even with our snow deficit. http://www.washingtonpost.com/blogs/capital-weather-gang/wp/2015/03/23/top-10-snowiest-u-s-cities-this-winter/
 The dry weather has allowed me to get into the woods early this year and start on Firewood a good month and a half early. Up here the Mosquitoes are out shortly after last snow and cutting wood with a swarm of skeeters is no fun.
 This morning brought a end to our boring weather pattern, We started out with 25 degrees and snow with rising temps to 33 dgrees. The roads turned slushy in areas which really puts the Hakka R2's to the test for Anti slush planing abilities.
When everyone else is driving half the speed limit  i'm safely traveling along with ease.
I have a friend that has the Hakka R and travels around 120 miles a day who loves the tires and appreciates the reccomendation to the Nokian Brand, He likes them so much He will be Buying the Entyre 2.0 tires for summer use. I'm always glad to hear positive feedback on Nokian Tires I recommend.
We have Lake Effect snow on its way for thursday depending on Ice conditions with Lake Superior.
I'll leave you with some pictures of my travels this week.
Till next time keep your tires on the ice and the firewood burning