One of Canada's most respected automotive commentators has big things to say about Nokian Tyres' EV tires.
Justin Pritchard put our products to the test alongside other tiremakers in a thorough winter EV test, and the Nokian Tyres Hakkapeliitta R5 EV thrived under his scrutiny.
His first bit of praise: the difference in driving noise thanks to the Hakkapeliitta R5's acoustic foam. 
"I noted [the sound-deadening foam] to make a dramatic reduction in noise levels versus factory tires, improving the machine's overall driving comfort," Pritchard said. "You're getting that quiet drive you want from an electric vehicle."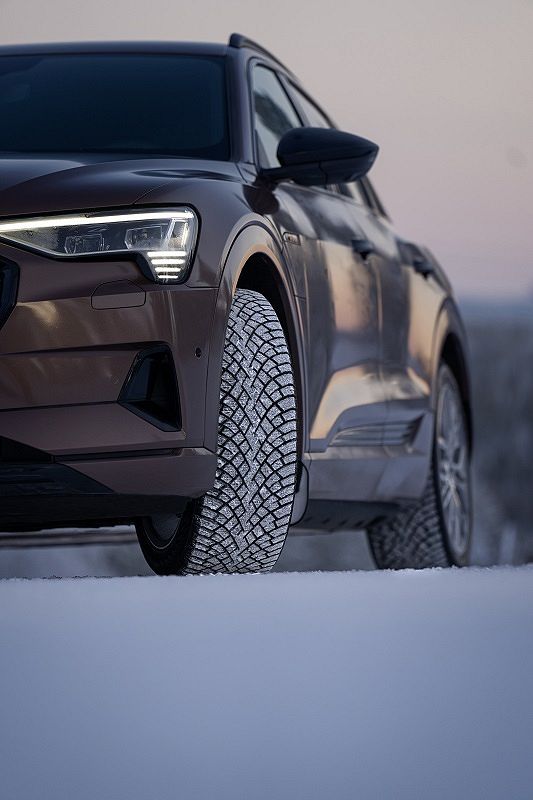 But his praise didn't stop there. He was impressed by the predictable handling and sturdy braking, but not shocked that the inventor of the winter tire would offer such stability on wintry roads.
"[I experienced] strong stopping traction and surprisingly evasive stopping performance on snow and ice that I've come to rely on from the Hakkapeliia line over the years," he noted.
"At 70 kilometers per hour, [I'm doing] an emergency brake and evade maneuver [with] full ABS braking," Pritchard said. "Add in a little bit of steering -- nice and easy to control, not too dramatic, no surprises. Exactly the response you're looking for."
Pritchard's overall takeaway: the Nokian Tyres Hakkapeliitta R5 EV is a winning combination of everything drivers want from an EV winter tire -- safety, comfort and efficiency.
"[The tire offers a] strong blend of driving refinement, quiet operation and the winter handling capabilities that Hakka drivers expect," Pritchard said. 
"The reduction of noise level inside the car is enhanced by the technology in these tires. Plenty of grip and lower noise levels -- that's a win-win if you're driving a plug-in."
Click here to watch Pritchard's full tire test.
Visit our website to learn more about the Nokian Tyres Hakkapeliitta R5 EV. It offers natural grip, comfort and eco-friendliness for drivers of EVs. Acoustic foam inside the tire reduces noise levels and makes for a smooth, safe drive in all winter conditions.
Check out our dealer locator to find a Nokian Tyres seller near you!