Studded winter tires provide ultimate safety in ice and snow. However, some states do not allow their use. This is based on the idea that studs can harm road surfaces and lead to quicker deterioration.
However, not all studded tires are created equal. Nokian Tyres, the inventor of the winter tire, uses Eco Stud cushions in our newest studded products, such as the Nokian Tyres Hakkapeliitta 10. This allows our flagship Hakkapeliitta tire line to be as road-friendly and eco-conscious as possible, helping keep drivers and roads safe at the same time.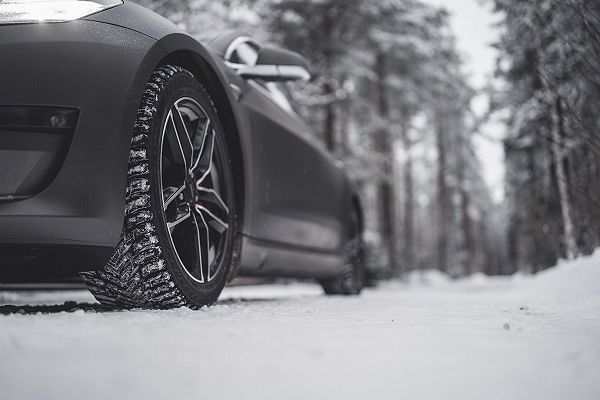 Where can you legally drive studded tires? Here's a comprehensive list. Please note that most states have restrictions on when studs can be used. Here's a more detailed guide.
Alabama
Alaska 
Arizona
Arkansas
California
Connecticut
Delaware
Georgia
Hawaii -- Only in the Mauna Kea area
Idaho
Illinois -- Studs are only allowed for rural mail carriers and people with disabilities who live in unincorporated areas
Indiana
Iowa
Kansas
Kentucky
Maine
Maryland -- Only in certain counties
Massachusetts
Minnesota -- Only allowed for rural mail carriers
Missouri
Montana
Nebraska
Nevada
New Hampshire
New Jersey
New Mexico
New York
North Carolina
North Dakota
Ohio 
Oklahoma
Oregon
Pennsylvania
Rhode Island
South Carolina
South Dakota
Tennessee
Utah
Vermont
Virginia
Washington
West Virginia
Wisconsin -- Only for emergency vehicles, school buses, and mail delivery vehicles
Wyoming
The following states either completely or mostly ban studded tires:
Colorado
Florida
Hawaii
Illinois
Louisiana
Michigan
Minnesota
Mississippi
Texas
Wisconsin
Drivers who are barred from using studs in their states need not fear: Nokian Tyres non-studded winter tires are crafted to deliver peace of mind on wintry roads, too. Tires like the new Nokian Tyres Hakkapeliitta R5 are infused with cryo crystals that help deliver optimal traction on snow and ice.
Even if studded tires are allowed in your state, they may not be the best solution for your winter driving needs. Here's a helpful guide to determine whether you should buy studded or non-studded tires.
Ready to make your winter tire purchase? Click here to find a tire dealer near you.