Lush images from this Hawaiian Island are seared inside the minds of anyone familiar with the Jurassic Park franchise. Its sea cliffs are the tallest in the world. And it was once home to a leper colony that helped heal sufferers from around the world.
So why haven't more people heard of Molokai?
Hawaii's fifth-largest island might be its least-known, but there are plenty of reasons to introduce yourself.
Puddle-jump your way to the Friendly Isle, as it's aptly known, from Maui or Honolulu – it's a 30-minute flight from either spot. You'll land on a quaint airstrip that looks more like a pineapple field than an airport. And get used to that theme: Molokai is rich with agriculture and scenery, but you may see more chickens than people during your time there.
Base yourself in Kaunakakai. A town of 3,500, it's the island's largest and lies within an hour of every part of the island that's reachable by car. We give that qualifier because the northeast part of the island boasts terrain that's impossible to navigate by road. You can only get there by plane, boat or mule – and we'd argue that travel by mammal is the best option. From the Kalaupapa lookout, ride a hooved friend down steep peaks and into a snug peninsula that once housed a leper colony. Visit the tomb of Father Damien, who lovingly cared for castaways inflicted with Hansen's Disease – more commonly known as leprosy – for nearly two decades before contracting and succumbing to the illness himself.
On your way back up the hill, look to your left and gaze upon the highest sea cliffs in the world. It's no wonder the producers of Jurassic Park fixated on these dramatic, fertile valleys for scenes from the classic movie franchise.
But alas, this is a piece about road trips, not mule trips. After heading back from the hills, hug the coast. At the edge of the pancake-flat west side of the island is Papohaku Beach – at more than three miles long, it's one of the longest white-sand beaches in Hawaii. Other than its size, its best quality is its density…or lack thereof. Molokai's minuscule tourist load means you'll likely have the whole expanse to yourself.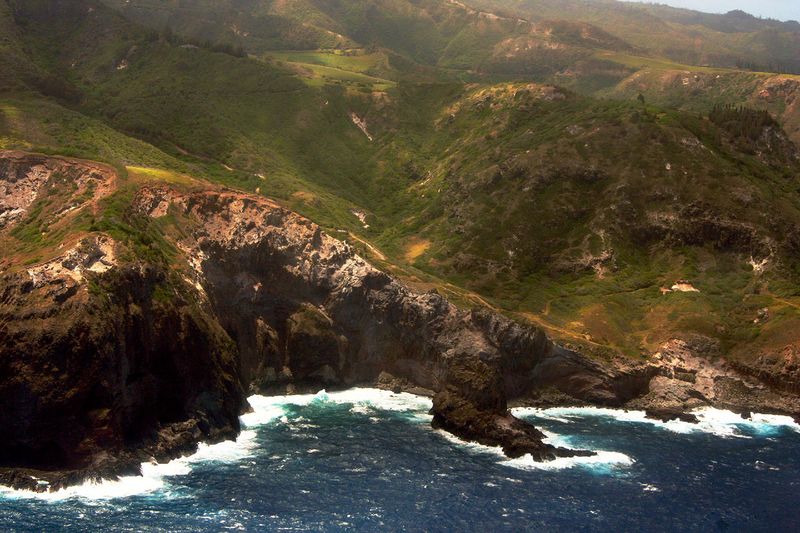 Molokai's north offers big cliffs and its west boasts a great beach, and to the east lies another blast of bountiful beauty. Carve along the coast for an hour from Kaunakakai to reach Halawa Beach Park on the northeast tip of the island. There's an inlet that's tailor-made for a dip in the Halawa Bay, but don't forget to look back up the mountains looming above you. A stunning waterfall greets you from above.
Molokai features natural wonders everywhere you look – cliffs, surfing waves, natural harbors, mountains and even a small desert. But if you don't take time to experience its unlike-anywhere-else culture, you're missing out. Stop at Coffees of Hawaii in Kualapuu for a conversation with locals, then take a tour and taste Hawaii's iconic beverage at its finest. And don't leave the island without indulging in the island's iconic late-night treat – hot bread from Kanemitsu Bakery in Kaunakakai, which has tantalized islanders since 1935.
You may not have heard of Molokai, but after a visit you won't be able to keep quiet about the Friendly Isle.
For our official road trip tire safety checklist, click here. And visit the main page of our microsite to add your own adventures!