Names can be deceptive.
Sure, South Dakota's second-largest city starts with "Rapid" and its most famous landmark begins with "Rush." But you'll do well to take your time when you visit a state that boasts two percent of our country's land but fewer people than Rhode Island.
Start in aforementioned Rapid City, which is tucked in the state's western side nestled against the Black Hills National Forest. Not only is Rapid City the gateway to Mount Rushmore, but it's also known as the City of Presidents because of several life-size bronze statues of our nation's former leaders. Start with the George Washington statue on St. Joseph Street, then peruse 39 others in a three-block radius.
Traveling with kids? Storybook Island is a popular playground with a children's book theme. Taking a more adult-oriented journey? Travel back in time to the wild west in the city of Deadwood, 45 minutes to the northeast.
Now, make your way to South Dakota's most popular sight, and one our nations best-known landmarks. Mount Rushmore is just 30 minutes southwest of Rapid City. It's what happens when patriotic sculptors blast 400,000 tons of rock into the shapes of George Washington, Thomas Jefferson, Theodore Roosevelt and Abraham Lincoln (in order from left to right). Go in the evening to see the mountain lit up; there's also a nightly patriotic ceremony. Plan ahead: Nearly three million people visit every year.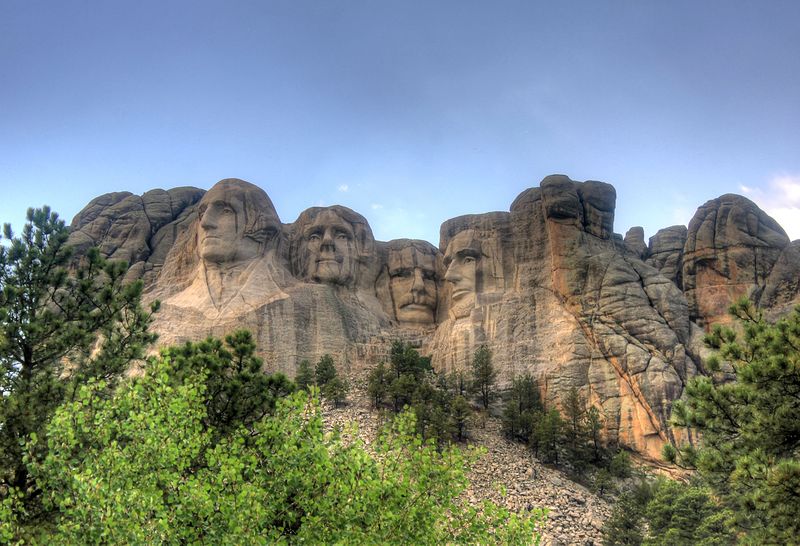 Having a good time? Time to have a bad one – not really, but we had to attempt a Badlands pun. Badlands National Park is 75 miles east of Mount Rushmore and offers abundant hiking, a convenient loop road and stunning scenery. Be on the lookout for the bison that roam the park!
Now it's time to make your way to the other side of the state. State capital Pierre resides in central South Dakota, and it's one of five U.S. capital cities that isn't on an interstate highway. Still, it's an easy detour off I-90 and worth a visit to see the state capitol dome.
Ready to return to city life? Sioux Falls, the state's largest metropolis, is three hours away on the east side of the state. Cruise through ranch country and gaze at the South Dakota sky as you blaze your way to the state's financial center. The Big Sioux River cascades through Falls Park in the center of town and makes for a great first stop. The Old Courthouse Museum is nearby and hides historical treasures beneath its vintage architecture. End your day with dinner at the Falls Overlook Café, which overlooks the falls and provides a fitting cap to your trip across the Mount Rushmore State.
For our official road trip tire safety checklist, click here. And visit the main page of our microsite to add your own adventures!