These days, most of us are doing what we can to make our planet a better place to live. If you're one of those folks, we have good news: The tires you drive can make an impact.
Rule No. 3 in our Ten Rules of Tires series is about sustainability. Your choice of tires has an impact on the environment, but it doesn't have to impact your safety on the road.
Take it from one of the most eco-friendly tire companies in the world: Safety and sustainability aren't just buzzwords for Nokian Tyres – they're a way of life. Our intensive research and development efforts focus on making green tires that keep you safe on the road. Here are some breakthroughs we've made that will help you find peace of mind that you're safely driving your way toward a better planet.
Eco-Friendly Products That Work Well on the Road
Like a great car or cake, the best tires are the ones with the best ingredients. We've long been committed to putting the best stuff in our tire compounds. In fact, we were the first tiremaker to exclusively use purified oils in our tires, which eliminated ingredients that were harmful to people and planet. And where we get those green ingredients matters, too: We proudly joined the General Platform for Sustainable Natural Rubber (GPSNR), which advocates for a fair, equitable and environmentally sound natural rubber value chain.
Crucially, those tire compounds are still proven to thrive on the highway. We remain among the industry leaders in safety, and our tires have inspired passionate and loyal customers across North America. Our tires are also a great fit for people who drive electric and hybrid vehicles.
Low Rolling Resistance
Those premium tire compounds are crafted with safety and sustainability in mind. In addition to being responsive to the road, our products are known for their low rolling resistance – defined as the amount of energy required to keep a car moving at the same speed. Rolling resistance chews up fuel and spits out emissions. The lower we can keep it, the more money and less environmental impact you have.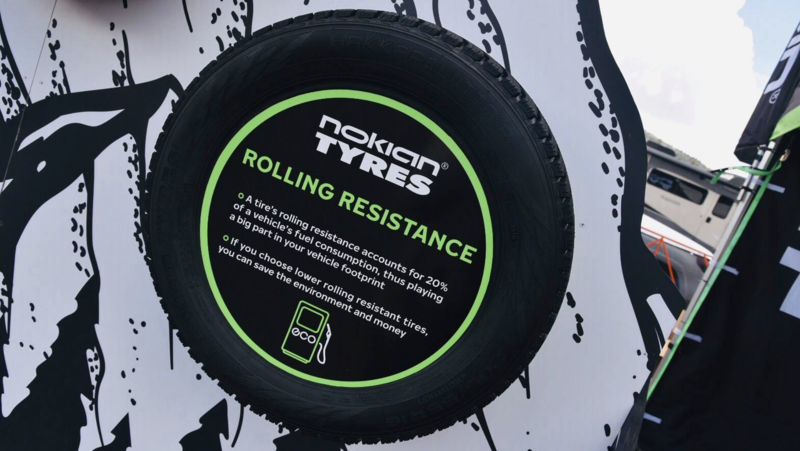 We lowered the rolling resistance of our tires by 8 percent between 2013 and 2018. That reduces carbon dioxide emissions by the equivalent of 65,000 passenger cars' emissions each year. Now, 90 percent of our products are in the very lowest rolling resistance categories. Products with low rolling resistance are often softer, which makes them better at responding to each turn in the road, enhancing your safety as they help protect the environment.
Responsible Processes
Our quest to craft the safest, most eco-friendly tires also requires us to use sustainable processes at our state-of-the-art production facilities. Our North American and Finland factories use renewable energy as part of their energy portfolio. We recycle 100 percent of production waste at our flagship factory in Nokia, Finland, and we're displaying a comparable commitment to sustainable production at our new factory in Dayton, Tennessee.
Perhaps best of all, we've reduced CO2 emissions at our factories by 44 percent over the last six years. So not only are our tires a safe choice, but we're making them in a way that's safe for our employees and their communities.
The next time you're shopping for tires, keep sustainability in mind. You can bet it's always on ours.
To read the full list of our Ten Rules of Tires, click here. To learn more about our products and premium nature, visit NokianTires.com.