Who has the worst roads in North America?
That's a question we've asked you over the past several weeks, and you've responded in impressive fashion! From British Columbia to Massachusetts, it's clear potholes are wreaking havoc across North America.
But in the end, two places stood out from the pothole pack: Colorado and Quebec. Final voting continues through April 11 on Twitter and our Instagram and Facebook stories, and we invite you to visit NokianTires.com/Potholes to make your case for a chance to win free tires!
There are good arguments for each area! Let's make a case for each of our finalists. There's no doubt that drivers in Quebec and Colorado would benefit from the Pothole Protection found in the Nokian Tyres One and our all-terrain Nokian Tyres Outpost Family.
Quebec
The defending champion of our dubious prize makes yet another appearance in the Worst Roads finals. Quebec residents, should we congratulate you or console you?
We should definitely comfort you for this ugly stat: The average Quebec driver spends $258 each year on car maintenance due to issues caused by rough roads. That's worst in Canada, according to the Canadian Automobile Association. That same report claims that as of 2021, 51 percent of Quebec roads received a failing grade.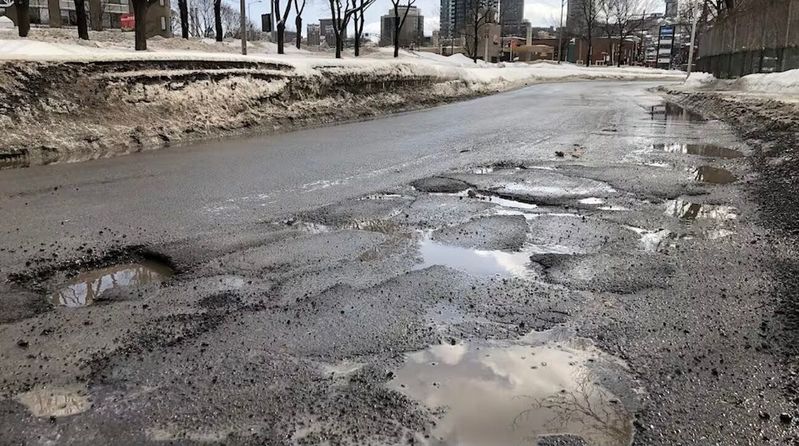 Quebec advanced to the finals by taking down stiff competition: Michigan, Alberta and British Columbia. And the arguments in the province's favor are strong.
"Montreal roads are in continual decay, never really repaved, just patched…eventually," says contest entrant Tommy.
Kamal makes a great case for tires with Pothole Protection.
"People often get flat tires, bent wheels, broken suspension arms, and out-of-spec alignments because of the severity of potholes in Montreal," he says. "Rather than repairing the road or at least filling the cracks that lead to these potholes, the city usually sends contractors to patch only the most severe ones with rocks or asphalt, but these patches often break down. This results in rocks flying and causing chips on paint and windshields. I would love to have Nokian Tyres knowing their durability would give me peace of mind."
Colorado
Things are also messy in the Rocky Mountain State, but for different reasons. 
Instead of a consistently brutal winter, many areas of Colorado experience wild temperature swings -- six inches of snow one day, spring-like temperatures the next. That freeze-thaw cycle tears apart road surfaces, especially at elevation.
And while Quebec drivers are required to install winter tires, that's not the case in Colorado. Cars are often ill-equipped to tackle unpredictable mountain weather, leading to snarled traffic that's so notorious it inspired a famous Instagram account -- I70 Things.
"I-70 potholes literally sway our trailer every time," says Kate from Loveland, Colorado. 
"I-70 in Colorado is a magnet to bad weather, rock slides, traffic, accidents, and 2WD vehicles attempting to drive 6% grade windy roads in the snow," says Casey. "If there is snow in the forecast for the ski resorts or if it's Saturday-Sunday, expect your commute [to be] 2-5 hours longer than expected."
It seems Colorado's reputation as a rugged state applies to its roads, not just its scenery.
Who do you think has the worst roads in North America? Would you vote for pothole poutine or Rocky Mountain road hazards? Tell us at NokianTires.com/Potholes and you could win a free set of the Nokian Tyres One, our passenger tire that comes with Pothole Protection. And be sure to vote on Facebook, Instagram and Twitter each day through April 11!