Paul Pabst has no excuses.
The executive producer of the nationally syndicated Dan Patrick Show lives in snowy Connecticut, but he has to get to work every day.
"We don't cancel our show due to weather," Pabst said in an interview on the Nokian Tyres Journey Podcast. "I have yet to miss a day on the Dan Patrick Show for illness or any other reason. If you're a media member in the north, snow is not an excuse to miss your job. You have to have a good car and good tires."
That's why the popular radio voice became a Nokian Tyres customer several years ago.
"When I moved to Connecticut to work for ESPN, I started going to Vermont regularly. My wife drove a Saab wagon, which you'd think of as really good in weather, but we were up on a snowy hill and slid back down," Pabst said. "I took the car in and the guy told me, 'you have all-season performance tires and you're driving in winter in Vermont.' We got winter tires, and we're just bombing up through Vermont. It's a piece of cake."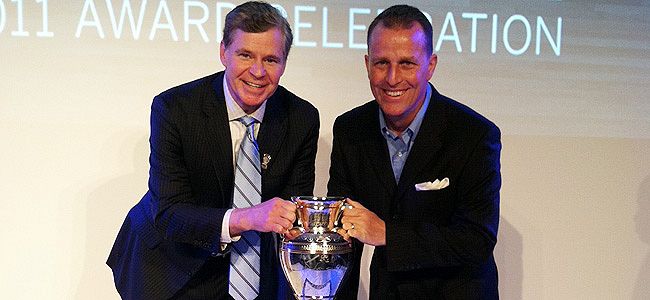 The experience inspired Pabst to partner with Nokian Tyres on a campaign to educate drivers about the importance of driving the right set of winter tires.
"It made me realize that it's not the car that matters – it's the tire," Pabst said. "It would be like being a basketball player with bad shoes. I can't imagine being a basketball player with bad shoes."
Pabst is producing video content to showcase the importance of buying Nokian Tyres products early in winter. He'll share his experiences riding on our tires. And he's asking twice-monthly sports trivia questions on his popular Twitter account, where correct respondents will be entered to win a set of Nokian Tyres winter tires.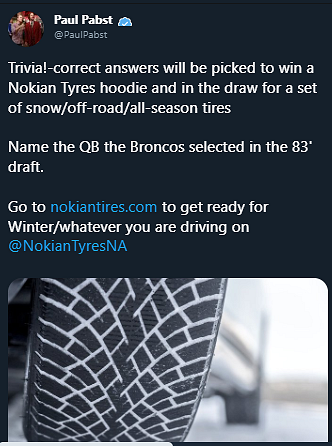 "I'm trying to let people know that if you're gonna get winter tires, don't go shopping in January," Pabst said. "If you have a great car with bad tires, you just wasted your money. Tires are essential, but most people don't even think about them."
As a producer of the most popular sports radio show in the country, Pabst makes a living asking great questions. But in this case, he's eager to provide his followers with an important answer about winter driving safety.
"I wish I knew things 25 years ago about how to handle my car," Pabst said. "I put [Nokian Tyres products] on my car and I was just cooking. It made me want to work with the company."
We invite you to learn more about Nokian Tyres products by visiting your nearest tire dealer! To find a Nokian Tyres seller near you, visit our Dealer Locator page.