For baseball fans, a journey to the Midwest in the heart of summer isn't just a road trip: It's a pilgrimage. Click here to follow along on our pursuit of America's pastime, from musty bars to bum-filled bleachers to a cornfield hundreds of miles from the nearest city. 
We'll start in the Motor City, home of Motown, America's automotive industry and the best coney dog this side of Brooklyn. You've probably heard that Detroit fell on hard times a couple decades ago, but you can't keep a classic American city down for long: The city is enjoying a robust revitalization process built on a more diversified economy, one-of-a-kind culture and hard-working citizens.
Park downtown near Grand Circus Park. It's the heart of the city, a short walk from sports venues, the Detroit Opera House, the famous Fox Theater and the Greektown Casino. Look up and you'll see General Motors' headquarters keeping watch over the iconic city. For a vintage summer experience, walk a mile to Nemo's Bar. It's hard to imagine now, but old-school Nemo's once sat in the shadows of Tiger Stadium before Detroit's baseball team moved to new digs after the 1999 season. But the bar survives, and it's still a popular pregame spot: Park downtown, walk there, enjoy yourself, and then they'll take you to and from the new stadium downtown in an old school bus. But be sure to take in your surroundings when you're inside; Nemo's will throw you back to the 1960s in an instant – it opened then and hasn't changed much.
From Detroit, traverse the southern shores of Lake Michigan to Chicago. Tucked in the Northeast corner of the state hugging Lake Michigan, the Second City is a first-choice destination. If you're a sports fan, don't miss a Cubs game – and sit alongside the bleacher bums if you get the chance.
From the Land of Lincoln, set your GPS for a rolling farm just outside of Dyersville, Iowa. Why visit a random cornfield? Because Shoeless Joe Jackson and Kevin Costner were there a few decades ago. That's right! It's the film set for the classic baseball movie Field of Dreams, and the ballfield is still where the producers left it. Take a ball and gloves and rob the corn stalks of a home run – it's a game you won't forget.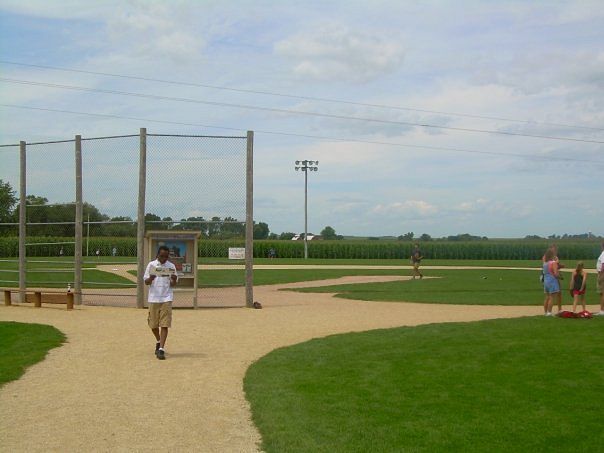 Rob the cornfield of a home run ball, then take your own trot around the bases. To paraphrase Kevin Costner's character in the iconic film: "This isn't heaven. It's the Midwest."