At Nokian Tyres, we believe satisfied employees are in a great position to make some of the safest, most sustainable tires in the world. For example, we'd like to tell you a story about Tracy Hickey, who works at our state-of-the-art North American factory in Southeast Tennessee.
When Tracy heard Nokian Tyres was opening a factory in her home of Rhea County, Tennessee, she was intrigued. But if she's being honest, she wasn't certain she'd belong.
"For Nokian Tyres to come here, that was big -- it was huge! And actually, I did not see myself here because I just thought it was too big for me....is there a place there for me?" she confides. "With it being so big, could I be a part of it?"
Factory leadership thought so, and Tracy joined the launch team at its inception in April 2019, taking a role as a Production Operator.
"When the opportunity was presented, I felt like it was meant for me to be here," she said.
Fast forward two years. Now, Tracy's curiosity and commitment have earned a robust reward: promotion last September to the role of Production Team Leader overseeing various aspects of the components process.
"It was surreal" to get the news, Tracy says. "To be promoted just over a year after getting here, it's just like, 'is all this real?'"
Tracy and her cohort of launch team members have a saying -- they've been here "since red clay," the muddy landscape that dominated the factory campus as the buildings were being erected. Just like that Southeast Tennessee bedrock, she and her colleagues helped form a foundation for the growth that's happening now; the factory aims to produce as many as a million tires in 2021.
"It's been almost like watching a flower bloom," Tracy says. "You plant it as a seed, then you see it coming up, and now it's all blossoming. We started here in trailers doing classroom training, we went to Russia for training, and then to come back here...we all fell into place. It has been a great experience."
Between her promotion and the employee-driven features at the factory, including robust safety policies, a wellness center and even a sauna, Tracy feels like the company is invested in her success.
"It's all gorgeous when you come through that gate," she says. "It makes you feel like they value us as people. They're giving us something to better us, which will benefit them as well."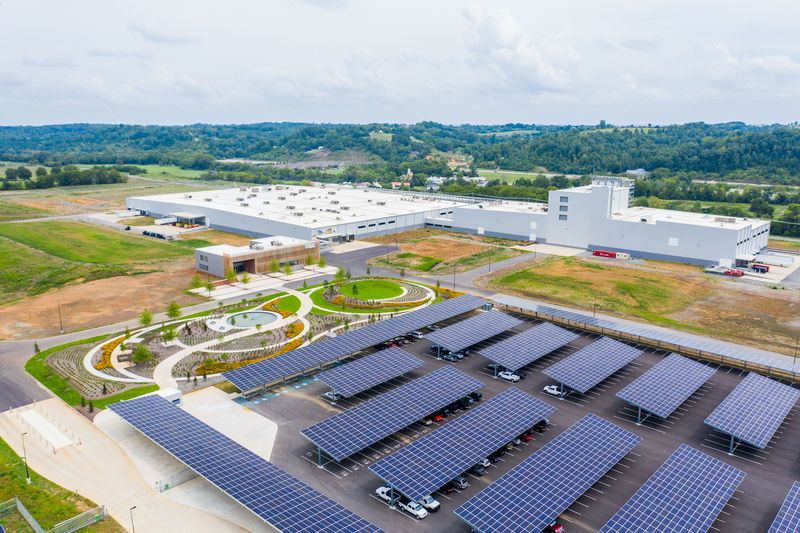 There's no getting around the challenges her team faces. The Dayton Factory will be a major factor in the company's growth in North America, as we make all-season and all-weather tires there that are tailored to North American drivers. But as the team prepares to expand to four shifts in the coming months, Tracy says the culture remains upbeat.
"We're close. Many of us came in here together and have close bonds, and then you add the people who came on after the launch to be part of the four shifts, they're positive," she says. "A lot of people are excited to see everything come together."
Tracy is aware that the challenges and opportunities ahead will continue to test the team. But she also relishes the opportunity to reflect on the growth that has transpired to this point -- and the promise it suggests for an even brighter future.
"Being able to come in and know you're being appreciated...you feel like what you do is not falling on the wayside," says Tracy. "Someone is looking at you and letting you know they appreciate you. It makes you want to come to work...to do better, to be better. I've gotten that from being part of this family."
Does she ever wonder if she'd have been better off passing on the chance to apply back in 2019?
"No regrets at all," she says. "It has been an amazing journey."