Solar energy. Eco-friendly design. Energy Efficiency.
These are just a few of the reasons our Dayton Factory's administration building has earned LEED v4 Gold certification, another step toward making our North American production complex one of the most sustainable tire facilities in the world. The factory's production building previously earned LEED v4 Silver certification, the first tire production factory in the world to achieve that milestone.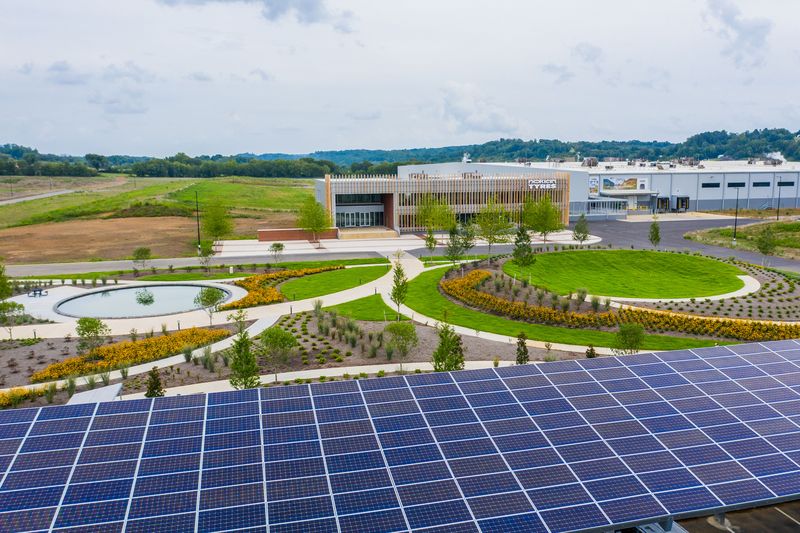 What makes the admin building so eco-friendly? Here are a few factors:
A bank of solar panels anchored in the parking lot provides power to the administration building and generates energy for a portion of the production process

The three-megawatt panels can generate approximately 4,000 megawatt-hours of solar energy each year, which would be enough to power more than 500 homes

Inspectors highlighted the administration building's innovation in design, energy efficiency and indoor environmental quality as key drivers of the high certification level

Design innovations include solar power, low-emitting building materials and a high level of natural lighting throughout the facility

A 2.5-acre greenspace flanks the entrance of the administration building, complete with trees, a pond and walking paths
Nokian Tyres has long striven to be a global leader in sustainability. We have been named to the Dow Jones Sustainability Index for four straight years, ranking us among the most sustainable publicly traded companies in the world. We were also the first tire company to have our emissions reduction targets approved by the Science Based Targets initiative. 
We also serve as thought leaders when it comes to helping drivers make sustainable choices, and we're partnering with One Tree Planted to plant 50,000 trees in sensitive areas this year. We're gratified our administration building achieved this important milestone, and we remain committed to leading a journey to a safer world in the years ahead.
Scroll below to see more pictures of our sustainable North American production facility, where we're busy adding nearly 150 jobs in the first half of 2021.