"You really out to give Iowa a try." That line's from Broadway's iconic The Music Man, and it's absolutely right – the Hawkeye State's food, farms and frivolity make for a unique dose of Americana.
Make like Harold Hill, hop in your car and explore the state's many must-see stops. Our journey begins in Des Moines, a woefully underrated city of 200,000 that combines modern comforts with a classic culture. People have lived on the banks of the Des Moines River for around 7,000 years, and its fertile location is the source of scores of culinary delights. More than 20,000 people visit the Saturday-morning Des Moines Farmers' Market every year, and a number of restaurants specialize in Midwest-style farm-to-table delights.
The area's food products might even help you have a safer journey through the state: A local garlic salt manufacturer sometimes donates its product to help melt ice and snow during the summer months. We prefer a more predictable road safety option: a set of Nokian Tyres winter or all-weather products, which help keep you safe even when the roads aren't seasoned like a hamburger.
From Des Moines, venture two hours east to Iowa City. Home to the University of Iowa (you simply must catch a Hawkeyes football or basketball game if the scheduling works out), it served as the state capital until the middle of the 19th century, when Des Moines took the job. The Old Capitol Museum explores the days when all political roads led to Iowa City. Cozy your way into the snug former legislative chambers, then hop north of town to check out the world's largest wooden nickel – yes, that's a thing.
Once you've put in your five cents, set your GPS for a rolling farm just outside of Dyersville, an hour and a half to the north. Why visit a random cornfield? Because Shoeless Joe Jackson and Kevin Costner were there a few decades ago. That's right! It's the film set for the classic baseball movie Field of Dreams, and the ballfield is still where the producers left it. Take a ball and gloves and rob the corn stalks of a home run – it's a game you won't forget.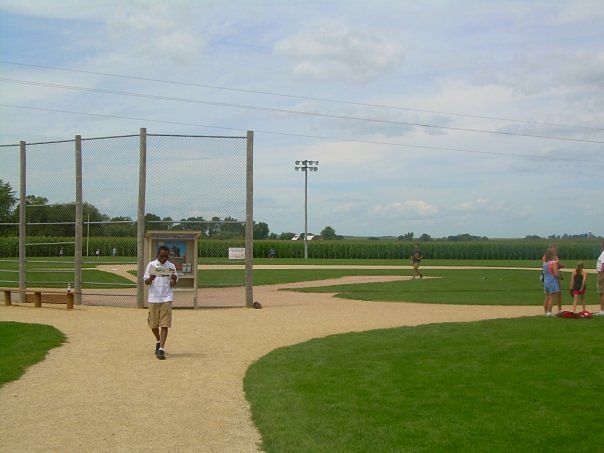 One last Iowa travel tip: While Dyersville isn't far from Iowa's eastern border, don't leave the state without buying a bag of cheese curds. With the possible exception of Wisconsin depending on your palette, nowhere does the Midwestern delicacy taste better than in the Hawkeye State. The Country Junction in downtown Dyersville is a great spot to give them a try.
For our official road trip tire safety checklist, click here. And visit the main page of our microsite to add your own adventures!