So you want to be eco-friendly on the road. Good! We care about the environment, too! Just ask the employees at our North American factory in Dayton, Tennessee, which recently earned LEED v4 Silver certification for its energy-efficient design and processes, the first time a tire factory has ever accomplished that feat.
But winter is here, and it's fair to wonder whether your passion for sustainability will need to take a backseat to safety when roads turn snowy and icy.
Not necessarily! In fact, the two factors are often closely linked.
Winter tires maintain their elite traction on snow and ice thanks to softer compounds that hold up well in cold temperatures. Softer rubber does a better job of adhering to the road, whereas traditional all-season tires harden when temperatures fall below 45 degrees Fahrenheit.
You might assume that a softer tire would create more friction with the road, leading to a less efficient driving experience. After all, rolling resistance -- the energy required to propel your car along the road at a constant speed -- is impacted by your tires' tread compounds. The higher the rolling resistance, the less fuel-efficient your car will be -- and the more emissions you'll release into the air.
But at Nokian Tyres, we've spent years pioneering winter products that maintain low rolling resistance, even as our latest-generation tread compounds hug the road more tightly than ever. The key? The way our tires are formulated. Our compounds are engineered to provide stability in addition to softness. A more stable tire runs more smoothly along the road, which generates less friction.
Over 90 percent of Nokian Tyres' products are in the best rolling resistance categories A, B or C. In fact, if all passenger cars in Illinois and Michigan used low-rolling-resistance Nokian Hakkapeliitta R3 winter tires over the product's life cycle instead of other premium winter tires, fuel savings would be nearly 80 million gallons and carbon dioxide emissions would decrease by some 710,000 tons.*
Not all winter tires carry low rolling resistance. You'll need to purchase high-quality winter tires to achieve that goal -- something you should do anyway, since good winter tires also help keep you safe on the road.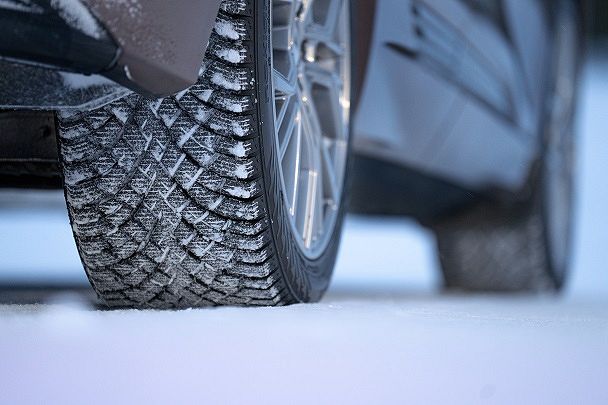 What else can you do to be green this winter? The answer shouldn't deflate you.
Keep your tire pressure high!
As the mercury falls, your tires deflate by as much as 1 psi for every 10-degree drop in temperature. Not only do deflated tires pose a safety risk, but they also create more friction with the road. That means excessive wear, a higher risk of going flat, and a less sustainable driving situation. More friction equals -- you guessed it! -- higher rolling resistance. 
The steps you take to stay safe on the road also play a role in making you a greener driver. Buying high-quality tires, focusing on rolling resistance, and keeping your tires fully inflated are important steps to protect yourself and the planet at the same time. 
To learn more about safe, sustainable winter driving, click here.
*Calculations are based on a comparison of the rolling resistance of Nokian Hakkapeliitta R3 to the rolling resistance of other premium winter tires. The societal cost of carbon dioxide emissions has been calculated with an assumed price of 40 euros per ton of CO2 emissions, which is in line with the cost used by the Finnish Transport Agency, the Norwegian Public Roads Administration and the US Environmental Protection Agency. Source: Assessment based on KPMG's True Value methodology.