After amonth of commuting 80 miles per day, it was clear that a 90K mile Audi Q7 was not going to be a good choice. 20 mpg highway was good for an SUV but the vehicle required super. More importantly, never knowing when the next $1000 mechanical issue would hit my wallet was worrisome.

After testing a wide range of AWD cars and SUVs, I realized that I wanted a dramatic increase in mpg. I started exploring FWD cars and bought a VW Passat TDI through Shearer Volkswagen. What closed the deal was that they let me take the vehicle for a day on my commute where I saw first hand that it averaged 40+ mpg, twice the mpg of my Q7.
On the 15th I traded in the Q7. It was a sad day leaving it as I loved many of the features, the technology, and the ride. I was also nervous about losing Quattro but knew that with good tires, I would be fine in the front wheel drive Passat.

This week, I didn't yet have winter tires and drove the VW with the original equipment Continental All Seasons. As luck would have it, each day it seemed I would leave Burlington in dry weather but it would start to snow as soon as I got halfway through my commute. The Contis were OK in the snow, but not at all confidence inspiring.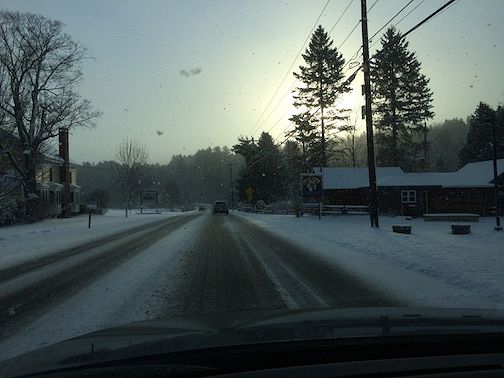 On Friday, I took my wife's Subaru Outback with Hakkapeliitta 7s so that she could take the VW to get the winters installed. Although it was dry in Burlington, it was by far the worst day of the week for road conditions on my commute. On Route 100, puffy flakes were falling and had been driven over. Although the pavement looked clear, it was actually sheet ice. I was able to snap a few pix with my remote GoPro.
At one point on the drive, I was following a car at 35mph. The driver hit the brakes on a downhill, the rear wheels broke free, and the car started to slide. I swerved around it and into the oncoming lane as it slid into a driveway. I then swerved back into my lane. The studs bit into the black ice and made my move drama free. I was thankful I had not been in my new car with all season tires as I am quite sure the outcome would have been much different. It was also a reminder that it only takes one driving incident where studs save you from a crash before you become a studded winter tire user for life.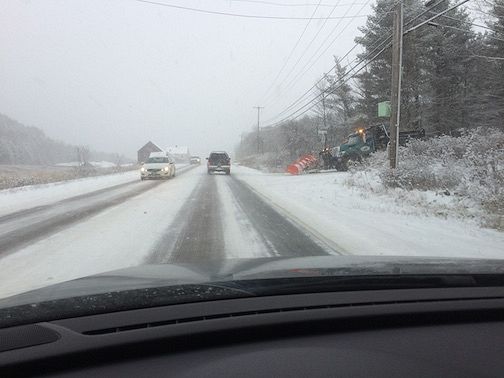 When I got home that evening, my VW had new Hakkapeliitta 8s installed in the Original Equipment size 235/45 R18. I am eager to get them in some tough conditions. We have a 500 mile trip planned coming up which should create some good opportunities to test them out.