Do you ever feel guilty about driving?
For most of us, driving is a necessary part of our regular routines. But in the back of our heads, we know that every time we hit the road we're creating a carbon footprint. 
Fortunately, there's quite a bit drivers can do to reduce that environmental impact, and it starts with buying tires from companies who care about sustainability. Nokian Tyres is leading the way in the quest to make the roads more eco-friendly. Here's how.
ROLLING RESISTANCE
Rolling resistance refers to the energy lost when the tire is moving during driving. The lower the rolling resistance, the less energy lost or fuel needed. Better fuel efficiency positively affects the environment and lowers the driver's carbon footprint by reducing CO2 emissions. For electric cars, lower rolling resistance means also longer driving range.
Over 90 percent of Nokian Tyres' products are in the best rolling resistance categories A, B or C.
If all passenger cars in Illinois and Michigan used low-rolling-resistance Nokian Hakkapeliitta R3 winter tires over the product's life cycle instead of other premium winter tires, fuel savings would be nearly 80 million gallons and carbon dioxide emissions would decrease by some 710,000 tons.*
RECYCLING
In 2018, Nokian Tyres recycled 100 percent of the waste from its flagship factory in Nokia, Finland.
Almost 100 percent of used tires are recycled in the Nordic countries and around 95 percent in Europe.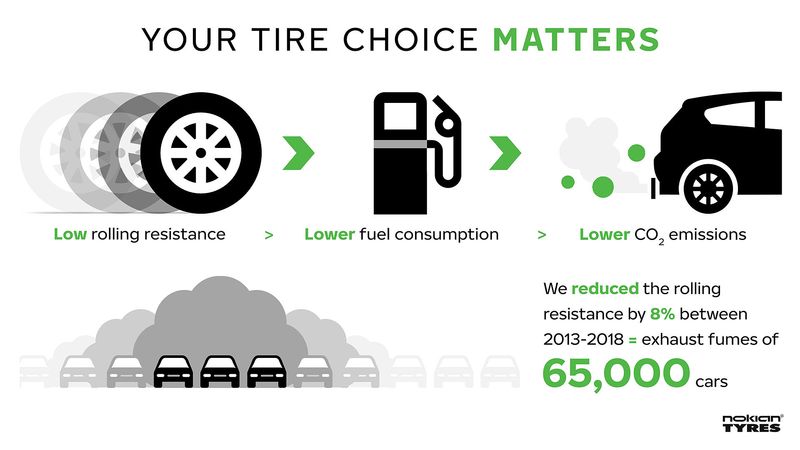 SAVING ENERGY
We installed a new scrubber at the Nokia energy plant that provides the factory with hot water and steam, and the facility has already saved 185 truckloads of fuel as a result.
RENEWABLE ENERGY
At Nokian Tyres' factory and head office in Nokia, Finland, about 47 percent of all energy is produced with renewable energy sources.
The company has installed solar panels at our North American warehouse in Vermont.
Nokian Tyres is planning similar eco-friendly practices at its first North American factory in Dayton, Tennessee, which will begin producing tires for commercial use next year.
SUSTAINABLE RAW MATERIALS
Nokian Tyres joined the Global Platform for Sustainable Natural Rubber in March 2019. The GPSNR will work to improve respect for human rights, prevent land-grabbing, protect biodiversity and water resources, improve yields, and increase supply chain transparency and traceability.
IMPROVEMENTS IN LABOR RIGHTS
Nokian Tyres' sustainability follow-up-audits in Malaysia and Indonesia showed improvements in labor rights in 2018 compared to earlier audits. Workers were educated on their rights, worked shorter shifts with more rest days and enjoyed better access to water as they worked, among other quality-of-life enhancements.
CONCLUSION
So, the next time you feel a tinge of guilt when you get behind the wheel, remember that Nokian Tyres is ready to partner with you for a better planet. We're an industry leader when it comes to sustainability, and we're happy to support your desire to make the earth just a little bit greener.
*Calculations are based on a comparison of the rolling resistance of Nokian Hakkapeliitta R3 to the rolling resistance of other premium winter tires. The societal cost of carbon dioxide emissions has been calculated with an assumed price of 40 euros per ton of CO2 emissions, which is in line with the cost used by the Finnish Transport Agency, the Norwegian Public Roads Administration and the US Environmental Protection Agency. Source: Assessment based on KPMG's True Value methodology.