The most extreme winter roads demand the most hardcore winter tires. Enter the Nokian Tyres Hakkapeliitta 10, the newest release in our vaunted line of studded winter products. It represents the next generation of winter safety, the latest step in a legacy we've spent nearly nine decades building.
"Considering it comes from the northernmost tire manufacturer, which has plenty of snow and icy roads to test them on, the Hakkapeliitta range benefits from some of the most intensive development and testing cycles in the industry," AutoEvolution said in a piece about the tire.
They're one of many independent experts and popular publications to sing the tire's praises. 
Famed tire reviewer Jonathan Benson used the Hakkapellitta 10 as his reference tire for a non-studded tire test. In other words, it was the benchmark for how tires should perform in extreme winter. How did it do? In his review, he said it "absolutely dominated ice braking and traction on smooth ice, which is the sort of ice you see at junctions."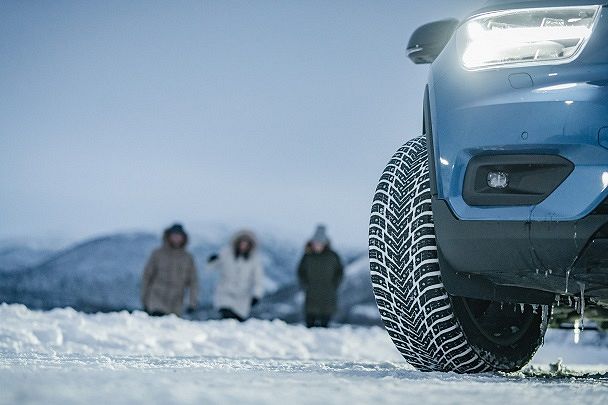 Gear Patrol writes that the "Nokian Hakkapeliitta 10 is the perfect tire to keep you safe this season."
"Nokian Tyres invented the winter tire in 1934 and launched the legendary line of Hakkapeliitta products in 1936," the review continues. "Since that time, the brand has been a leader in winter tire development. From mild winter weather to freezing blizzards, you can continue to adventure this winter with Nokian Tyres no matter the conditions."
Here are some of the features that set the Nokian Tyres Hakkapeliitta 10 apart from its counterparts.
Patented Double Stud Grip
Our unique new studding solution ensures great grip even in the worst winter weather and in sudden situations. The studs in the center improve acceleration and braking grip, and the new, star-shaped studs on both edges of the tire maximize the grip during turning and lane changes.
Silent, Enjoyable Driving
Enjoy silent journeys with Nokian Hakkapeliitta 10's comfortably smooth and steady soundscape. Thanks to the optimized stud layout, disruptive noise waves are cut to minimum. This new layout eliminates the most prominent frequency peaks, making every drive a joy.
Durability and Great Mileage
Get safety mile after mile (or kilometer after kilometer) with the extended service life of the Nokian Hakkapeliitta 10. With improved stud retention, durability and wear-resistance, you don't have to worry about your tires for years to come.
As you make your winter tire purchase in the coming weeks, we believe there's one true option for ultimate winter safety: The Nokian Tyres Hakkapeliitta 10. As you can see from the comments above, experts agree.
To learn more about this groundbreaking winter tire, visit NokianTires.com/10.