(Sorry about the rotated picture. The website did not cooperate when attempting to upload a corrected one!)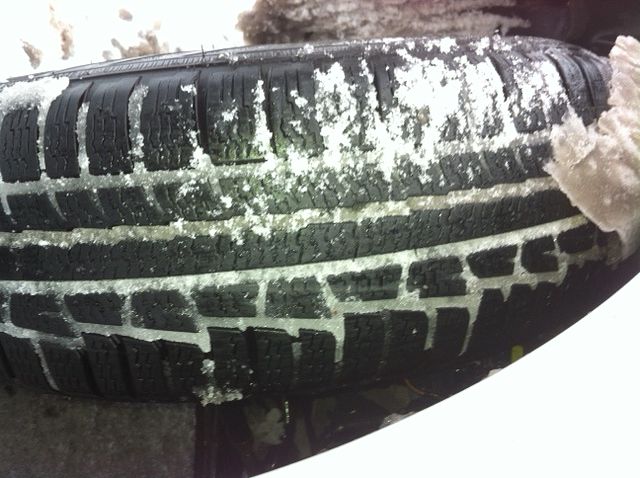 Winter came a bit early this year. I was looking forward to getting the Prius out this year. The tires have been rotated and I wanted to see if there was a noticeable degradation of performance.
The snow felt and sounded like rain drops as I brushed off the car. A chill settled in thus permitting the snow to stick to the roads. The tires bit nicely as I chugged up the hill around the corner from the house. The traction control wasn't called once. Interestingly enough, the snow got a bit deeper as I navigated to town. Slight increases in elevation will do that I guess. As I crested the hill on French Street, I could see other cars taking it easy going up and down the hill. I squeezed the brakes and tried to come to a stop as nobody was behind me. No sliding. Secure. I looked into the distance and saw the second hill that was proving to be a challenge to others as they fish-tailed up it. I took the liberty of stopping half way up the hill. I wanted to see how gravity and the snow would challenge the WRG3. I honestly thought I would spin a bit to get going. Not at all. Straight up. Awesome.
Around town the snow thinned out. Still, everyone was flopping a bit. These tires are safe for driving when you have to get around town. If we get the 12 inches as predicted, I will let you know it does when you
shouldn't
be driving. That's more fun any way...