The outside of a car tire looks simple, but looks can be deceiving. The black, round shape contains fine-tuned technology and several components measured at great precision. Nokian Tyres is constantly involved in research and development toward safer, more sustainable mobility. Product development involves hundreds of professionals from around the world.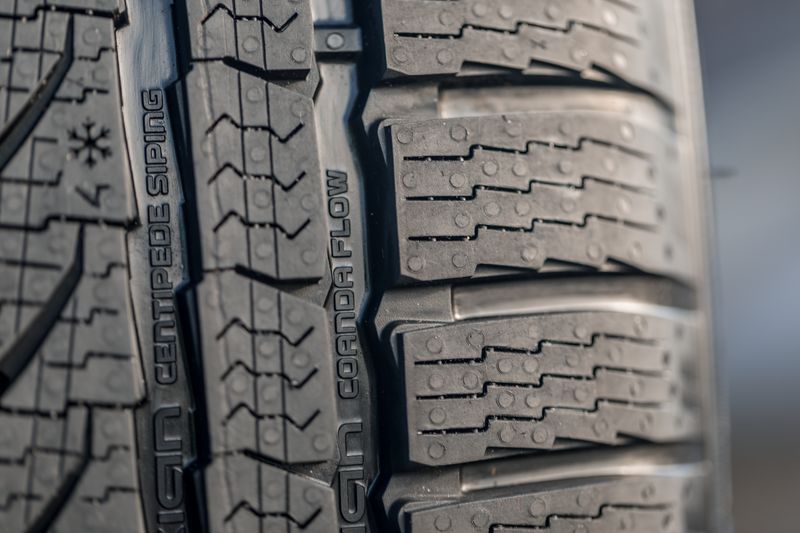 Tires aren't as simple as they appear
Each one of us can recognize a car tire when we see one. However, this everyday object is not as simple as it seems. A single tire consists of more than 100 raw materials and components, and a large group of experts takes part in its design. Years of testing is also involved; before a tire is launched on the market, it will have been driven for millions of miles in both everyday traffic and on closed test tracks. Each raw material, component, and mile is part of a carefully considered whole that makes a state-of-the-art tire.
"When a new tire is being developed, various professionals work both together and by themselves in the laboratory as well as on the test tracks," says Nokian Tyres Senior Product Development Manager Harri Myllymaa.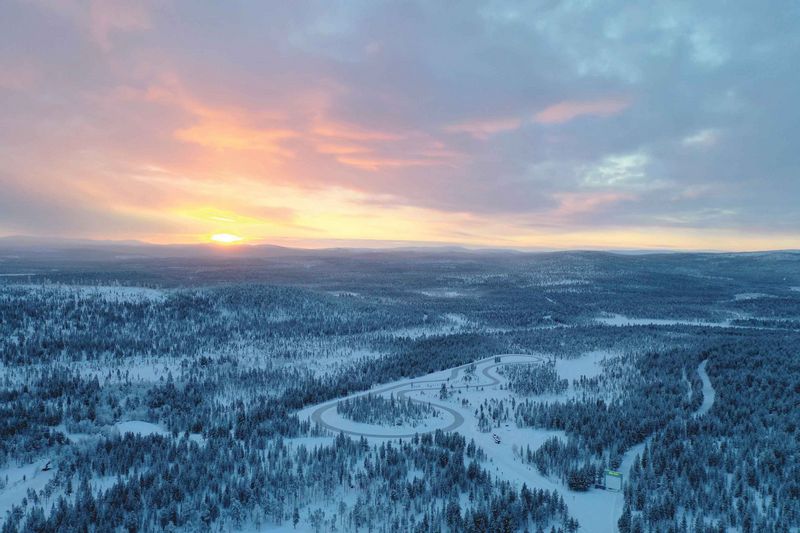 Every tiny part matters -- down to the ounce
New tires are launched every year, but the innovations and improvements made to them can rarely be seen with the naked eye. In addition to radical new innovations, we strive for better tires by using completely new raw materials and fine-tuning the proportions of different components. Even a small change may improve the tire's desired characteristics, such as rolling resistance, wet grip, and wear resistance.
"The smallest amounts of raw materials used in a tire are measured to the ounce. For some components, the precision may be as exact as 0.1 ounces," says Myllymaa.
In addition to the renewed tread design that comes with each new tire, there may be more than a hundred changes in the structure, components, or raw materials of a new tire when compared to the previous model. Before a tire goes on sale, hundreds of different prototypes will have been built in order to determine the best possible combination.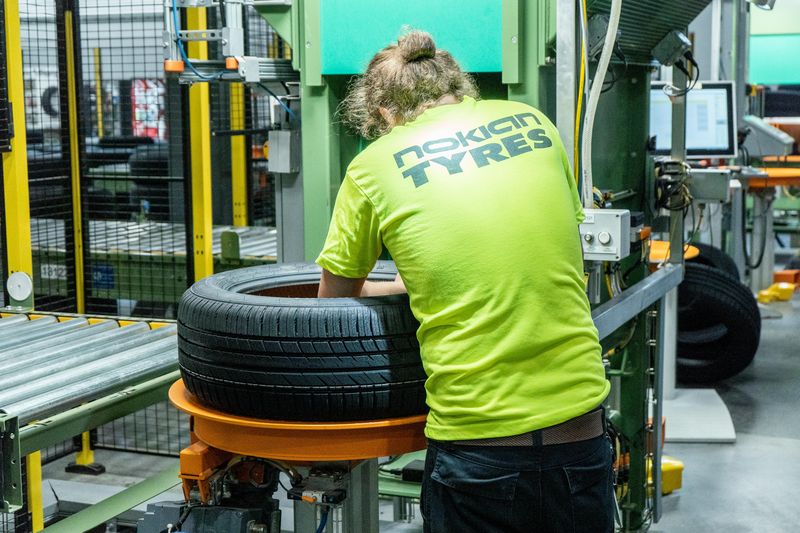 Bio-based materials are trending
A standard passenger car tire weighs about 22 pounds, and the rubber compound accounts for about 80 percent of its weight. The various components in the rubber compound are a carefully thought out combination that consists of natural and synthetic rubber as well as fillers, such as carbon black and silica, oil, vulcanization chemicals, auxiliary chemicals, and protective substances.
Fillers amount to approximately one third of the rubber compound; carbon black gives the tire strength as well as the familiar black color, while oil acts as a softener. The remaining 20 percent of the tire's weight consists of various reinforcements such as steel and textile, which act as body materials.
Nokian Tyres is constantly seeking new material innovations, but certain basic elements have been a part of tires for decades. Examples of these are natural rubber and carbon black, and a single tire may contain several different types of them.
"We have researched countless different options, but so far, rubber compounds provide the best safety characteristics for a tire," Myllymaa says. "The tire's black color is also here to stay. In addition to its excellent performance, a black base color does not highlight dirt; the color keeps the tire's appearance balanced and good-looking throughout its service life. Tires of other colors have been tested, but they have been experimental due to their convoluted manufacturing process and high cost, for example. Of course, individual tires with tailored colors and sidewall patterns are possible."

The Aramid fiber used by Nokian Tyres, however, is a much rarer material. It reinforces the mechanical durability of the tire's tread and sidewall in many of our latest-generation tires.
"It speaks volumes about the durability of the material that it is more commonly used in the aviation and defense industries than in the tire business," says Nokian Tyres Technical Customer Service Manager Matti Morri. 
In the future, major advancements will be related to bio-based components and tire-related sensor technology and data processing. By 2030, 50 percent of the raw materials used by Nokian Tyres will originate from recycled or renewable sources. For example, one third of the materials used in the Green Trace compound in the Nokian Tyres Hakkapeliitta R5 winter tire already come from such sources. The compound uses canola oil and pine tree resin, among other natural ingredients.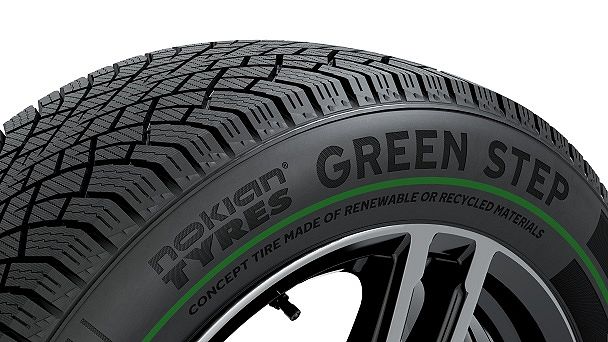 Tires are made under one roof
Once the components are meticulously measured, they are brought in a controlled and tested manner to the assembly machine, where automation takes care of the rest. The entire process from manufacturing and measuring the components to assembling and curing the tire takes place under one roof – only the studs or the sound insulation foam used to improve comfort in EV tires are added elsewhere.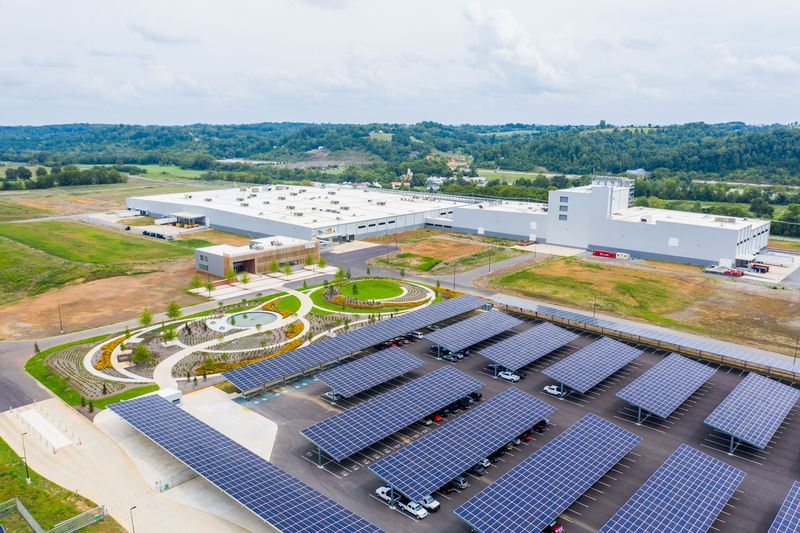 "In the car industry, the different components typically come from different subcontractors and they are put together in a car factory," Morri says. "We do it all under one roof, which ensures excellent quality."
Tires by the numbers
One tire contains nearly 30 different components

More than 100 tire industry experts participate in the design of a Nokian Tyres product

The development of an entirely new passenger car tire takes 2 to 4 years

For example, the latest Nokian Tyres Hakkapeliitta 10 studded tire is the result of five years of work, more than 500 vehicle tests, 13,000 test tires, and millions of miles driven

By 2030, 50% of the raw materials used by Nokian Tyres will originate from recycled or renewable sources

Nokian Tyres products are sold in around 60 countries
We invite you to learn more about Nokian Tyres products by visiting your nearest tire dealer! To find a Nokian Tyres seller near you, visit our Dealer Locator page.